The Need
A Center for Service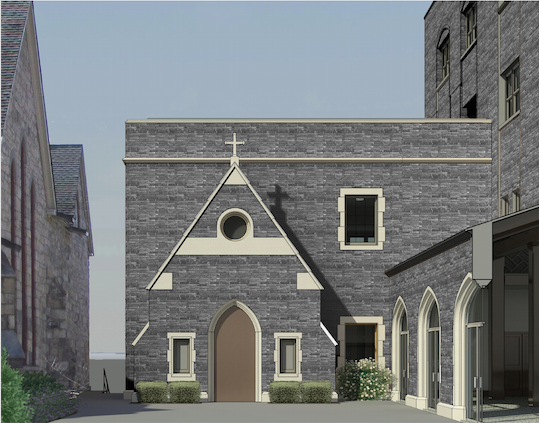 Through the campaign, we will create a Parish House and Community Center adjacent to the historic Bethesda Episcopal Church. Four stories tall and offering 30,000 square feet of accessible, downtown space, the center will provide a powerful
presence for help and healing in our community.
Affordable Community Rental Spaces
The missions of numerous community organizations would benefit from a downtown location. Unfortunately, prevailing rents are prohibitive. Bethesda's Center, however, will welcome weekday child care facilities and organizations focused on service to families, individuals with disabilities, women in crisis, children at risk, restorative justice, counseling, and more. Reduced rental rates for these groups will be offset by market-rate rental spaces elsewhere in the Center, to assure long-term financial viability.
Meeting Facilities
The Center will include multipurpose spaces that can flexibly accommodate groups of up to 200, including catering kitchen facilities. This will allow groups of all sizes to hold meetings in an accessible downtown location, seven days a week.
An Integrated Vision
Through the Centered in Service campaign, the church will have space for fellowship, music activities, parish administration, a library, archives, and church school.
---
Caring for a Landmark
Bethesda Church's long history in Saratoga Springs is embodied by our nationally recognized 1840s church, designed by America's premier architect of the time, Richard Upjohn. The plans have received high praise from the community for not only their vision for the future but for their sensitivity to the history of this place.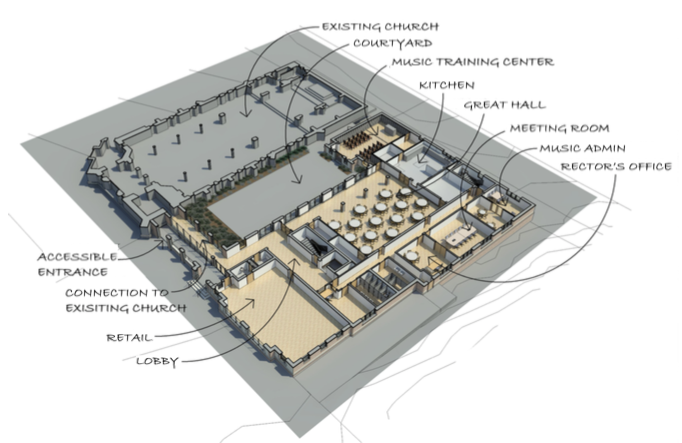 Preservation Activities
A grant from the New York Landmarks Conservancy funded in part a conditions assessment of the church. The resulting priority list of projects will be addressed through the campaign. Significant measures in and around the church building will be undertaken to maintain its usefulness for future generations. Activities envisioned include: a new chapel and columbarium, remodeling of the undercroft, an improved lighting and HVAC system, new gutters and downspouts, better storm water drainage and other measures to protect the historic fabric of the church.
Accessibility: Solved
The campaign will also solve the challenge of accessibility from church to parish house. Currently, worshippers have to cross Washington Street to attend programs, post-service fellowship, and church school in the existing parish house. This presents a barrier that limits access and participation, especially for our seniors and disabled church members and guests. With the new center adjoining the church, a ramp and cloister enclosure to the west of the bell tower will connect the church to all activities.