Welcome
Dear Friends,
When our family first came to Grace Church we knew we had found a spiritual home and a growing, diverse community, committed to revealing God's love to the world.
Today, our parish offers a wide range of ministries for the spiritual growth of adults, families, and children. We reach out to the poor and needy of our community, and we seek to glorify God though music, art, and a variety of worship services each week. Our building is open every day, welcoming 50,000 visitors annually. The architecture draws our eyes upward, assuring us—as the Psalmist proclaimed—that our "help comes from the Lord, the maker of heaven and earth."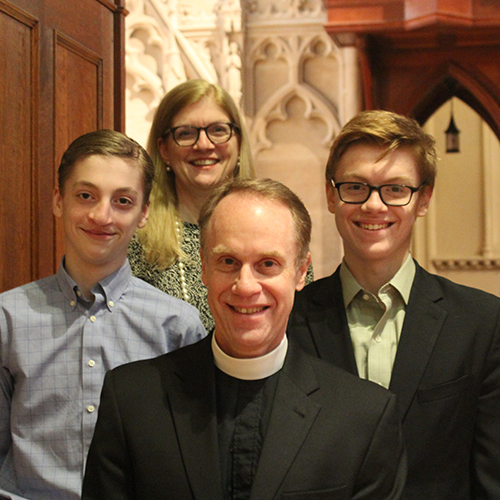 Over the past decade we have done much to restore and preserve our historic church building. The Lift Up Thine Eyes capital campaign will fund restoration of the nave and north transept high ceilings and will repay a portion of the funds we borrowed from the endowment needed to design and build the magnificent Bicentennial Organ.
Together we can ensure that our building and community thrive for generations to come. Your commitment and participation will continue the Grace Church traditions of excellence and service. Stacie and I intend to give generously and we invite you to Lift Up Thine Eyes and join us in making a gift.
Sincerely,
The Rev. J. Donald Waring
Make a Pledge
We need your help to reach our goal
Make a Pledge
Campaign Goal $2,600,000
Challenge Goal $3,000,000
Campaign Prayer
Loving Father,
our hope and our salvation, we lift up our eyes to you. We give you thanks for all our blessings, most especially for your love and care for the people of Grace Church. Help us faithfully to care for our church home, crafted before our time by those who have entered into your rest, that we may strengthen this holy place for the praise of your Name and the welfare of your people for generations yet to come. We pray this through Jesus Christ our Lord, who with you and the Holy Spirit lives and reigns, one God, in glory everlasting.
Amen.